Today, live on the radio for KPFT News, broadcast on 90.1 FM in Houston, I interviewed Brent Flynn, a 31-year-old Texas journalist who was told he could no longer write a column after executives at his newspaper chain discovered he had attended a political rally.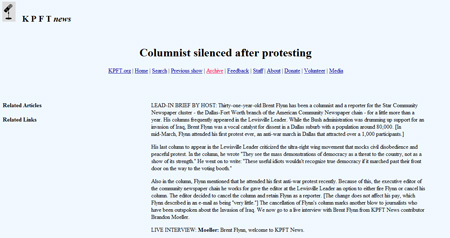 Here is an excerpt from the interview:
Moeller: Why do you believe your editor didn't fire you?

Flynn: "Well, I'd like to believe that it's because I'm a darn fine reporter. But it could have also been other considerations; you know, being short-staffed, controversies that could be caused, I don't know."

Moeller: You have a Web site at www.brentflynn.com, which you have maintained for the past three years, three times as long as you've been reporting for the Lewisville Leader. On the Web site, you have been posting new columns which I assume would have been printed in the Lewisville Leader. In the age of the Internet when any person can become the media, do you think it's possible for you to reach as broad of an audience online instead of in print?

Flynn: "Oh definitely. I'm reaching a much wider audience now. I've got an e-mail list set up, and I'm reaching people on various Web sites, international and national. So, it really has been really good for my career and getting my message out."
Read the story on the old KPFT News website that I created and maintained.