Last weekend, Kim drug me to San Marcos to attend the wedding of one of her best friend's sisters.
It was a blast.
On the road again with Kim and Brandon
So … much … outlet … shopping …
San Marcos River gawking
Check out 95 more photos of our trip here or see my 8 favorites – among other great photos of the two of us – here.
For Kim, the trip was a vacation from planning. Which meant there was no itenerary. So a day or so before the trip, the idea pops in my head that we should see my cousin Michelle and her husband Dan. So I e-mail her and plans are thrown together … but they were in no mood for pictures, because the day was also the first day they biked home from work in downtown Austin. They estimated the trek at 15 miles, mostly on a bike trail through Austin's green belt … but Michelle said it was more brown than green.
Here's an old picture of them anyway.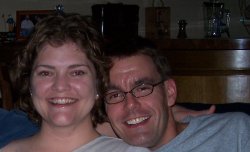 Michelle and Dan Bost, Thanksgiving 2006
Anyway, so we were going to see the Bosts, and their new house in Austin. OK, it's three years old. But I don't get out much.
Since it was a vacation without planning, we had planned to not plan dinner, and Michelle was going to treat us to her famous shrimp and grits. But as we were driving, Kim mentioned that Texas Monthly mentioned that Luling, Texas (pronounced "Lull-ing" … just kidding, Kim!) was home to two of the top 50 barbecue joints in Texas. So, we stopped and I bought dinner at what Texas Monthly said was one of the 5 best "Smokin' Joints" in Texas:
City Market in downtown Luling
It turns out that when buying barbecue, you don't need a pound per person. I know this because I bought four pounds of this stuff, and as a result, was eating it all week. What a tragedy! Nah, it was really good barbecue, perhaps the best I've ever tasted from an eatery. And, the smoke is still on my clothes from stepping into the smoke room at City Market. Yum.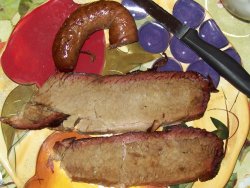 Almost a week later: The last of the barbecue, shot at Kim's house.
Also during our trip, we went to the outlet mall in San Marcos and the San Marcos River. I took lots of photos of everything I saw. Oh, and there was a wedding. So go check out the photos already.