On Sunday, I moved all of the seedlings and put down newspaper over what will become an extension of the flower bed. Another part of the extended flowerbed had already been dug, after I transplanted some of the grass from there to other parts of the yard.
In this spot, I dumped some new garden soil and transplanted some cosmos, my top gun tomato and a new eggplant that I could not resist when I saw it at Lowe's when I bought the new garden soil. The soil in my yard is so clay-like, amending it when I start a new bed is the best way to kickstart it. I'll post more about the eggplant – and what made me want one – tomorrow.
I also went through all the seedlings, and separated the ones that did not sprout from those that did. I dumped the excess soil into the large pot where the Top Gun tomato was, and it filled it! Then, I transplanted eight coleus there. All said and done, I had at least 50 empty seedling containers when I was done. I packed them all up in the garage.
Here's a shot of the extended flower bed that hasn't been finished yet.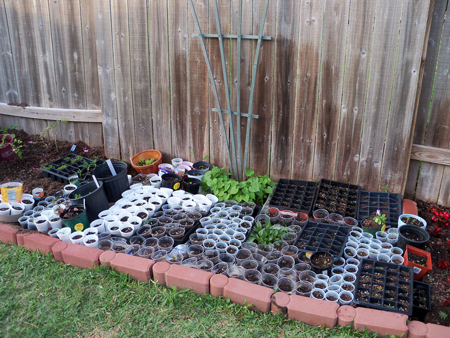 Sunday through today, I have transplanted the strongest of the blanket flower, half of the portulaca, most of the Cosmos Happy Ring, some of the Cosmos Psyche mix, about eight bachelor buttons, a cut flower wildflower mix here and there as well as the previously mentioned coleus.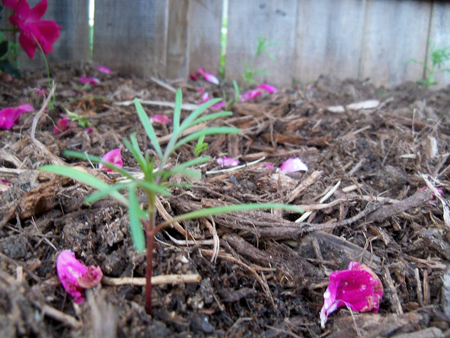 Into my bed, I dropped at least 11 blanket flower, five zinnia and two wildflowers.