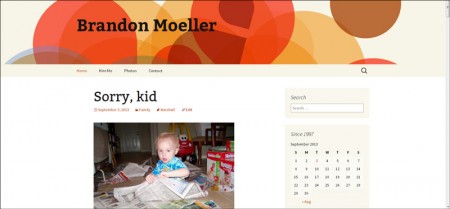 I've activated the new Twenty Thirteen theme that was released with the WordPress 3.6 launch back on Aug. 1.
Things look a little different here, and for the most part I like it.
I will be modifying it by creating a child theme very soon, but for now, I thought it would be nice to use the stock Twenty Thirteen theme and kick the tires a bit. Today, WordPress released 3.6.1, which I promptly upgraded to, and they are scheduled to release WordPress 3.7 in October (we'll see – 3.6 was four months late by my watch).
First observation of interest: Photos when they are aligned left. They jut out into the margin. I'm not convinced, at first glance, that I like this. The photo displayed above is an example of this.
When not aligned left, here's what a photo does: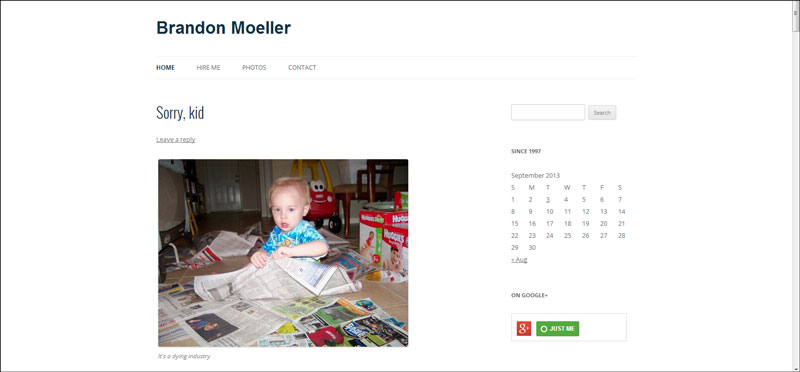 I added a thin black border to each of the screen shots above to better demonstrate the alignment style.
The really interesting thing about this new theme that I can't wait to test out and modify via a child theme is its different styles for the ten post formats that are now a prominent part of WordPress 3.6.
These ten post formats are:
I have changed a few of my recent posts' post formats to these types to see what happens.
Update: The Next Day
Heh. Back in April, I commented on the Twenty Thirteen designer Joen Asmussen's blog post about the theme. It should be noted that Mr. Asmussen, like me, was also born in November of 1979.  I forgot about making that comment on his blog until doing some research on the theme, thinking about how I want to make a child theme of it.
Then I saw his blue child theme for Twenty Thirteen, downloaded it, and activated it. You know, to see what happens.