Nine years ago, I started a website for KPFT News, a local news program that KPFT 90.1 FM was starting, after a long absence of not having local news on the plucky listener-sponsored radio station.
I maintained the website for a year on a strictly volunteer-only basis, providing a place for fellow participants to help me archive the stories we reported.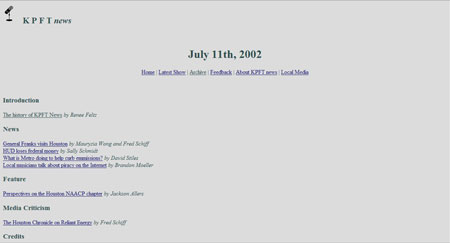 At first, it was a basic HTML page with links to full articles.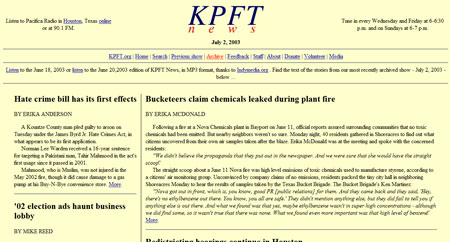 Later, I gave it more of a newspaper design, with color. And a new logo. The design was made possible with tables. (Shudder).
It was 2003. And I had just recently graduated from UH with a journalism degree.
The website is still archived on KPFT's web server, which I think is a very nice gesture to the amount of work we contributed to make it possible. I still believe the stories we told on that program — which continues to this day — tells the stories of Houston that aren't told elsewhere.