A story I wrote about a new trial program that provides resources and training to young fathers was broadcast on KPFT News today.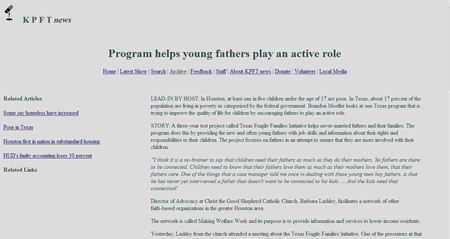 Here are the first five paragraphs of the story:
LEAD-IN BY HOST: In Houston, at least one in five children under the age of 17 are poor. In Texas, about 17 percent of the population are living in poverty as categorized by the federal government. Brandon Moeller looks at one Texas program that is trying to improve the quality of life for children by encouraging fathers to play an active role.

STORY: A three-year test project called Texas Fragile Families Initiative helps never-married fathers and their families. The program does this by providing the new and often young fathers with job skills and information about their rights and responsibilities to their children. The project focuses on fathers in an attempt to ensure that they are more involved with their children.

"I think it is a no-brainer to say that children need their fathers as much as they do their mothers. So fathers are there to be connected. Children need to know that their fathers love them as much as their mothers love them, that their fathers care. One of the things that a case manager told me once in dealing with these young teen boy fathers, is that he has never yet interviewed a father that doesn't want to be connected to his kids. … And the kids need that connection."

Director of Advocacy at Christ the Good Shepherd Catholic Church, Barbara Lashley, facilitates a network of other faith-based organizations in the greater Houston area.

The network is called Making Welfare Work and its purpose is to provide information and services to lower-income residents.
Read the rest of the story on the archived KPFT News website which I designed and maintained.