A story I wrote about two Willacy County commissioners appearing before a federal judge appears in this week's Raymondville Chronicle and Willacy County News.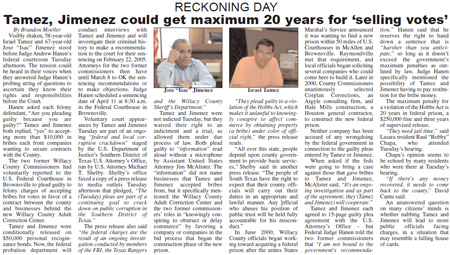 Here is the first three paragraphs of the story.
Visibly shaken, 58-year-old Israel Tamez and 67-year-old Jose "Isac" Jimenez stood before Judge Andrew Hanen's federal courtroom Tuesday afternoon. The tension could be heard in their voices when they answered Judge Hanen's probing string of questions to ascertain they know their rights and responsibilities before the Court.

Hanen asked each felony defendant, "Are you pleading guilty because you are guilty?" Tamez and Jimenez both replied, "yes" to accepting more than $10,000 in bribes each from companies wanting to secure contracts with the County.

The two former Willacy County Commissioners had voluntarily reported to the U.S. Federal Courthouse in Brownsville to plead guilty to felony charges of accepting bribes for votes in favor of a contract between the county and businesses behind the new Willacy County Adult Correction Center.
Download a PDF of the story.