A story I wrote about local youth petitioning their local government for a skate park appears in this week's Raymondville Chronicle.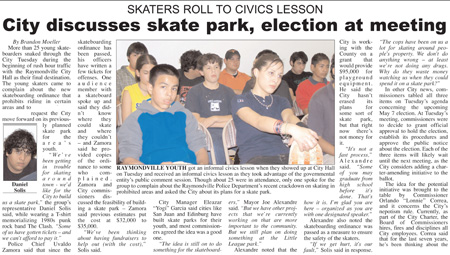 Here are the first three paragraphs of the story:
More than 25 young skateboarders snaked through the City Tuesday during the beginning of rush hour traffic with the Raymondville City Hall as their final destination. The young skaters came to complain about the new skateboarding ordinance that prohibits riding in certain areas and to request the City move forward on its previously planned skate park for the area's youth.

"We've been getting in trouble for skating around town – we'd like for the City to build us a skate park," the group's representative Daniel Solis said, while wearing a T-shirt memorializing 1980s punk rock band The Clash. "Some of us have gotten tickets – and we can't afford to pay it."

Police Chief Uvaldo Zamora said that since the skateboarding ordinance has been passed, his officers have written a few tickets for offenses. One audience member with a skateboard spoke up and said they didn't know where they could skate and where they couldn't – and Zamora said he provided copies of the ordinance to some who complained. Zamora and City commissioners discussed the feasibility of building a skate park – Zamora said previous estimates put the cost at $32,000 to $35,000.
Download a PDF of this story.