Today, a story I wrote about radio personality Dan Patrick entering the Texas Senate District 7 race appears in the Tomball Potpourri.
The story also features a photo of Patrick that I took as he announced his candidacy from a Tomball coffee shop during a live radio broadcast.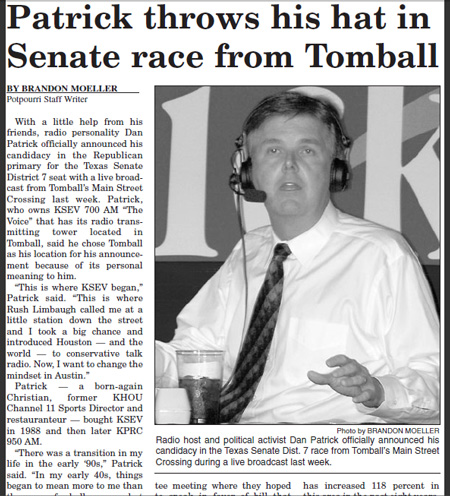 Here is the first four paragraphs from the story:
With a little help from his friends, radio personality Dan Patrick officially announced his candidacy in the Republican primary for the Texas Senate District 7 seat with a live broadcast from Tomball's Main Street Crossing last week. Patrick, who owns KSEV 700 AM "The Voice" that has its radio transmitting tower located in Tomball, said he chose Tomball as his location for his announcement because of its personal meaning to him.

"This is where KSEV began," Patrick said. "This is where Rush Limbaugh called me at a little station down the street and I took a big chance and introduced Houston — and the world — to conservative talk radio. Now, I want to change the mindset in Austin."

Patrick — a born-again Christian, former KHOU Channel 11 Sports Director and restauranteur — bought KSEV
in 1988 and then later KPRC 950 AM.

"There was a transition in my life in the early '90s," Patrick said. "In my early 40s, things began to mean more to me than the score of a ball game — but we do want this week's (Astros) scores to be good."
Download a PDF of the story.