Today, the Tomball Potpourri published an article I wrote about my former high school principal, Michael McWhirter, who was arrested during an undercover sting operation at a local park for trying to pay for sex.
My photo of the bird-watching enclosure where McWhirter was arrested accompanies the story.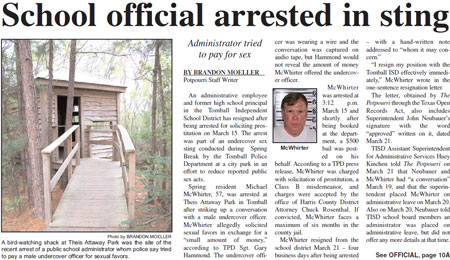 Here is the first three paragraphs of the story:
An administrative employee and former high school principal in the Tomball Independent School District has resigned after being arrested for soliciting prostitution on March 15. The arrest was part of an undercover sex sting conducted during Spring Break by the Tomball Police Department at a city park in an effort to reduce reported public sex acts.

Spring resident Michael McWhirter, 57, was arrested at Theis Attaway Park in Tomball after striking up a conversation with a male undercover officer. McWhirter allegedly solicited sexual favors in exchange for a "small amount of money," according to TPD Sgt. Gary Hammond. The undercover officer was wearing a wire and the conversation was captured on audio tape, but Hammond would not reveal the amount of money McWhirter offered the undercover officer.

McWhirter was arrested at 3:12 p.m. March 15 and shortly after being booked at the department, a $500 bail was posted on his behalf. According to a TPD press release, McWhirter was charged with solicitation of prostitution, a Class B misdemeanor, and charges were accepted by the office of Harris County District Attorney Chuck Rosenthal. If convicted, McWhirter faces a maximum of six months in the county jail.