A story I wrote about a fifth grade student who was arrested on facing felony charges after a neighborhood friend dared him to touch a fire alarm at school appears in today's Tomball Potpourri.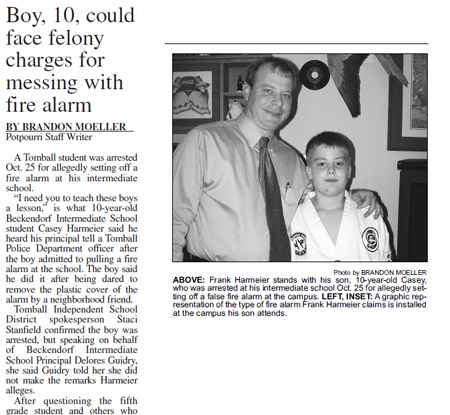 Before my story ran, we shared it with ABC Channel 13, who covered the story. Houston Community Newspapers has a partnership with the local television news station. After my story ran, local Houston Chronicle columnist Rick Casey also began writing about the case.
Here is the first four paragraphs of the story.
A Tomball student was arrested Oct. 25 for allegedly setting off a fire alarm at his intermediate school.

"I need you to teach these boys a lesson," is what 10-year-old Beckendorf Intermediate School student Casey Harmeier said he heard his principal tell a Tomball Police Department officer after the boy admitted to pulling a fire alarm at the school. The boy said he did it after being dared to remove the plastic cover of the
alarm by a neighborhood friend.

Tomball Independent School District spokesperson Staci Stanfield confirmed the boy was arrested, but speaking on behalf of Beckendorf Intermediate School Principal Delores Guidry, she said Guidry told her she did not make the remarks Harmeier alleges.

After questioning the fifth grade student and others who were present when the incident happened Oct. 25, TPD Officer Paul Overcast arrested Harmeier and took him to the Tomball jail where his parents later picked him up.
Download a PDF of the story.