Today, we delivered the College Portrait website that I designed to UH.
The College Portrait website is a project that UH requested from our office in an unusually short time frame — two weeks to be exact. I was assigned the project because I was up to the challenge, and wanted to try my hand at another project that allowed me to design something outside of our college template.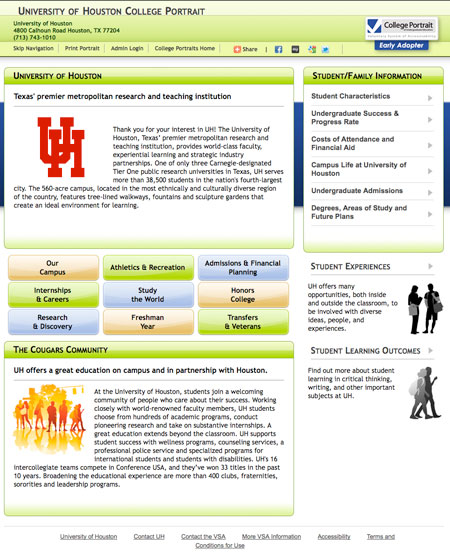 UH was participating in a national initiative called CollegePortraits.org that provides information to prospective students about higher education institutions, and UH wanted its collegeportraits.org page to link to a specially designed website that gave other information about UH, without overwhelming the prospective student with the complicated process of applying to a major research institution.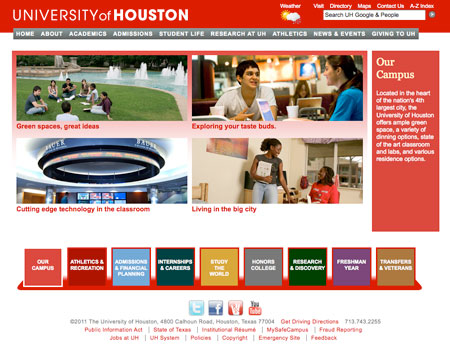 Prospective students who visit UH's page on the CollegePortraits.org page, can click on buttons that take them to the College Portrait website I created that is on the uh.edu domain with the university's official header and footer. Once on the website I created, students can find basic information about the nine basic aspects of UH that it wanted to promote on its CollegePortraits.org page. From each of these nine pages, students can click through photographs of actual UH students, faculty and staff to find out even more information.
The website I designed was delivered to UH on March 31, 2009.
June 26, 2011 update: Earlier this month, I noticed that the College Portrait website I designed for the university is no longer online, even though the College Portraits website still points to it. I have altered the links of this post to point to an archived version of the website served from my own server for my own portfolio purposes.