Sweet Tooth, 2800 Avenue K in Rosenberg, has been contracted as the official bakery of the Kovar-Moeller wedding. A Yahoo Reviews page is the closest thing they have to a web site. Hmmmm….
Kim and I had a chance to drop by their offices recently for a cake testing and they made two giant cakes for us to sample and showed us a portfolio of their work.
I hate to spoil the cake before it's baked, so I think all I'm allowed to say is that Kim's will be white and mine will be chocolate.
I was really impressed with the owner's cake portfolio and professionalism and look forward to the masterpiece her staff will be creating for our special day.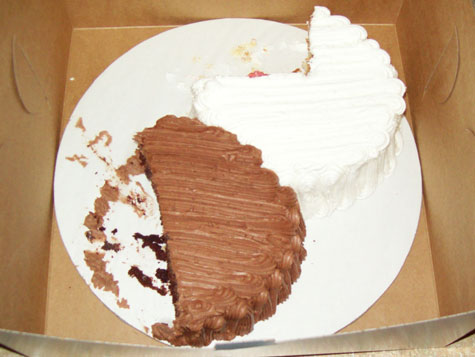 Also, songs that were rejected today for consideration for the wedding reception playlist:
Table and Chairs – Andrew Bird
Waltz #2 – Elliott Smith
Sugar Magnolia – Grateful Dead
Flowers and Liquor – Hayes Carll
Burn the Honeysuckle – The Gourds
Voodoo Chile – Jimi Hendrix