So, while working on this whole wedding website thingy  – and avoiding doing what I should be doing – I have stumbled upon two new (to me) online tools that I am considering implementing.
FlockDraw
The first one is FlockDraw. And it's beyond cool. Somehow, thanks to the amazing power of the Internets, it allows for collaborative drawing. Like, I could be drawing on it, and you could be drawing on it AT THE SAME TIME … and we can see each other do this … in real time.
It's FLASH based, I believe and it's really cool … when it works. I say this because I drew something at work, and then later today from home, I went to look at it and it was gone. I did post it to Facebook, and though no one commented, maybe someone erased it? Shrugs. See it here:
[It was embedded here. But, I've since removed it – it was not working as I had hoped and was busting my WordPress container.]
Of course, at this moment, it's blank again. Sigh. Well, we'll see … maybe it will right itself.
Just in case, I've embedded it here in this non-blog page: http://www.brandonandkimberly.com/flockdraw.html … It's not working as of this writing. The "embed" code they give out is wonky, and it doesn't even display on my Mac at work. Go figure.
In the meanwhile, the URL for the one I've been playing with is: http://flockdraw.com/cc0u4z
UPDATE: Oh wait, now I get it: "It's important to note that these FlockDraw rooms are meant to be disposable — once the last person leaves the room, the image disappears." from: ReadWriteWeb. But, still, I can't seem to get the embedding to work. Sigh.
Squidoo
I've been looking for a guestbook for www.brandonandkimberly.com because someone has strongly advised me to, and one of the first things I found in a Google search was Squidoo.
Squidoo is a lot like GeoCities, in that it allows anybody to set up a free website. And, that it looks pretty crappy. I hate all the banner ads, as represented in this screenshot: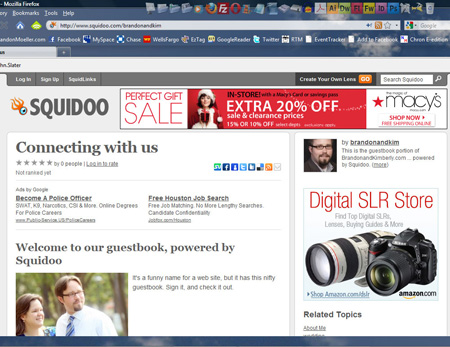 If you're interested in seeing the Squidoo page I set up today but likely won't continue messing with, see it here: http://www.squidoo.com/brandonandkim … Really, I just think I'm too old for that many ads. However, if anyone clicks on them, I might make money. Ka-ching … yeah, right.