I think I'm more than halfway through planting the seeds. What a long ordeal. I bought two packages of 5 ounce plastic cups before I started, four bags of seed starter mix, one bag of MiracleGro Moisture Control Potting Mix and Kim bought a larger bag of MiracleGro Potting Mix and I only have about 12 cups left and about a fifth of the big bag that Kim bought left.
See what I'm saying – and this isn't everything, either.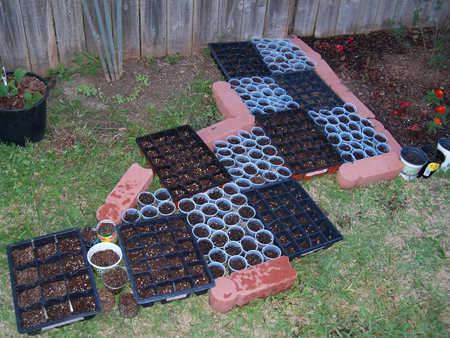 And, I still have one packet of each of the following left to plant: Zinna Persian Carpet, Cosmos Psyche, Campunula Complete Mix Bellflower, Monarda Hybnda Bergamo, California Poppy, Cut Flower Wildflower mix and Bachelor Button double mixed colors. And, like a third of the Oriental Poppy packet.
Since I'm almost out of plastic cups, I think next I will have to start using newspaper to hold the seedlings. I got that idea from the Houston Lawn and Garden blog. Watch the embedded video below: