Today, I published a story I wrote about a group of communication students and alumni who are working on a special film project to educate local youth about HIV and AIDS.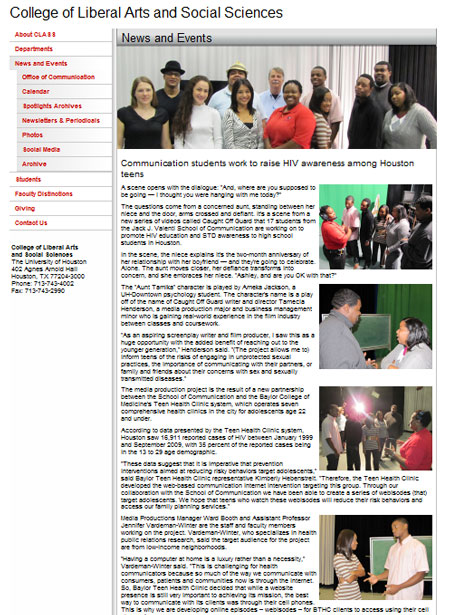 Here is the story's first four graphs:
A scene opens with the dialogue: "And, where are you supposed to be going — I thought you were hanging with me today?"

The questions come from a concerned aunt, standing between her niece and the door, arms crossed and defiant. It's a scene from a new series of videos called Caught Off Guard that 17 students from the Jack J. Valenti School of Communication are working on to promote HIV education and STD awareness to high school students in Houston.

In the scene, the niece explains it's the two-month anniversary of her relationship with her boyfriend — and they're going to celebrate. Alone. The aunt moves closer, her defiance transforms into concern, and she embraces her niece. "Ashley, and are you OK with that?"

The "Aunt Tamika" character is played by Ameka Jackson, a UH-Downtown psychology student. The character's name is a play off of the name of Caught Off Guard writer and director Tamecia Henderson, a media production major and business management minor who is gaining real-world experience in the film industry between classes and coursework.