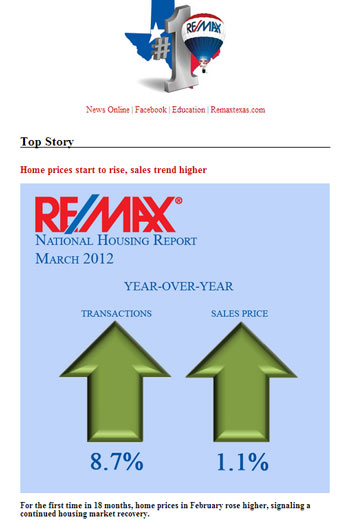 Today, I sent the RE/MAX of Texas eNewsletter to the statewide real estate network using a new responsive template that I customized.
The eNewsletter now looks great on any device it is viewed on, in any email client, thanks to an open source template created by Sean Powell, The Engage Group that I found and customized for RE/MAX of Texas.
The template I developed is based on the HTML Email Boilerplate v. 0.5 which is based on many open source templates, particularly those created by MailChimp on GitHub.
The template was designed to incorporate many of the design elements that were used in the previous RE/MAX of Texas email newsletter template.
This new approach to email design for RE/MAX of Texas came two weeks after RE/MAX, LLC unveiled the new RE/MAX Mobile App suite for iPhone and Android at the RE/MAX R4 Convention in Las Vegas, as discussed in the previous newsletter issue.
Here are links to other individual eNewsletter issues that I am proud of:
December 2012, Issue 2
October 2012, Issue 2
September 2012, Issue 1
April 2012, Issue 1