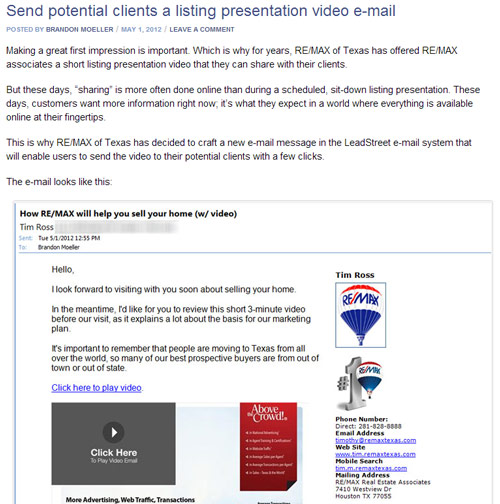 Today, I wrote and published an article titled "Send potential clients a listing presentation video e-mail" on the RE/MAX of Texas News Online website that instructs RE/MAX agents how to use the powerful LeadStreet platform to send a video listing presentation to prospective clients.
I created the e-mail message in the LeadStreet system (RelianceNetworks). When the prospective client receives the message, it links to a page that I developed that includes art designed by Brian Miller and that contains an embedded video produced by Mike Sumerlin.
I'm proud of this story because it communicates the value to its audience of the content we create for RE/MAX Realtors in Texas to use to increase their business.
The story was one of the most popular ones I wrote and posted on the RE/MAX of Texas News Online website.