One of the best things about working for the College of Liberal Arts and Social Sciences is that I get to use a lot of my communication skills to fill the needs of departments.
Recently, I launched a new website for the Developmental Psychology graduate program, and one of it's new features is a place to publish news about students and faculty.
Yesterday, I wrote a brief news article about Professor Bruno Breitmeyer.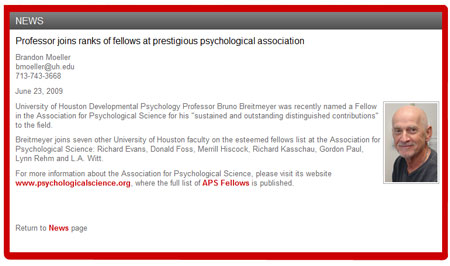 Here is an excerpt:
University of Houston Developmental Psychology Professor Bruno Breitmeyer was recently named a Fellow in the Association for Psychological Science for his "sustained and outstanding distinguished contributions" to the field.

Breitmeyer joins seven other University of Houston faculty on the esteemed fellows list at the Association for Psychological Science: Richard Evans, Donald Foss, Merrill Hiscock, Richard Kasschau, Gordon Paul, Lynn Rehm and L.A. Witt.
See the rest of the article on the Developmental Psychology website.