I'm such a scenester.
That's the feeling I was trying to convey by attending Saturday night's Buxton 7″ release show at Mango's on Westheimer.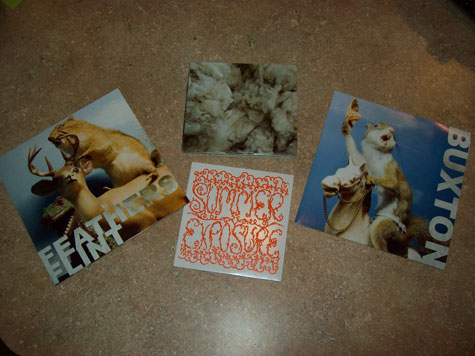 For those who may not know what Mango's is, let's just say it's that bar next to Helios – the two-story which used to be called The Mausoleum – and Mango's has it's own sordid and at times vacant-real-estate history. Mango's used to be called The Oven, a name that's a little more apt for all the sweat that poured out of me in the crowded-past-capacity-bursting-at-the-seems-someone-for-the-love-of-god-call-the-freaking-fire-marshall Buxton show.
I didn't know who the hell Buxton was before the summer started, and then one day – around June 10 to be exact – there I was, poring over my RSS feeds, minding my own business, when all of a sudden out of the blue IndieHouston.org celebrated some new compilation coming out of some local outfit called ArtStorm. The original IndieHouston.org post, which had four embedded songs included with it, has since been removed – replaced later with a post that looks identical on July 8.
The compilation was advertised as super cheap ($4), and so I went to the ArtStorm site, put it in my cart, realized I also needed to cough up shipping ($3), flinched but didn't yield, and then more than a week later, the CD finally arrived.
Note to ArtStorm, or whoever handles your orders for you: I'm on to you. I send CDs through the mail – a lot – and one CD plus a little bit of packaging (the comp comes in a paper sleeve) costs less than $2. Hope you enjoy handling my extra $1.50, and thanks for the speedy service.
But I digress. It's an awesome compilation, and I'm really glad ArtStorm cares enough about us Houston scenesters to enlighten us with it. "Doctor" by Buxton has to be one of the catchiest and funnest song I've heard all year. And I listen to a lot of songs.
The compilation got me interested in Buxton. So, I checked out their gig (though a mistake for listening to music, I couldn't really hear what the hell anybody was saying in that place! See my comments on this review here). While waiting for them to come on, I heard Wild Moccasins (read more and download three tracks here and one more track here), and they were freaking awesome. After listening to the aforementioned tracks I downloaded after the show, their lyrics ain't bad, either. Couldn't really hear them at the show, though. Maybe I'm old.
But the show allowed me to walk away with Buxton's new 7″ – including "Feathers" and "Flint" (including a download URL so I can snag the tunes without dusting off a record player that, uh, I actually don't own) – and I agree with those calling for "Feathers" to be song of the year. Also snagged their 2008 release A Family Light and it's very impressive. Compared to the new 7″, though, it's like Summerteeth meets A Ghost is Born. Look at me. Fitting in so well with this whole scene thing.
But we'll never return to Mango's for a big show. Maybe lunch. Or a drink. But never something as big as Buxton.