So Kim and her sister and I went to Rod Stewart at the Cynthia Woods Mitchell Pavilion on July 24, and you know what? It wasn't really all that bad.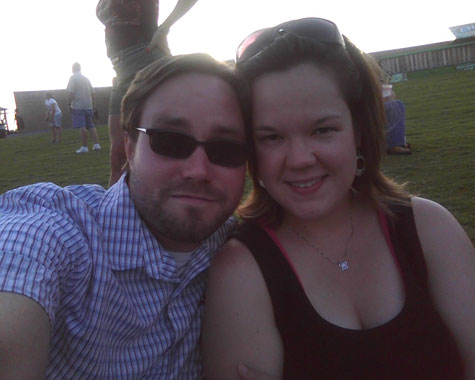 Well, getting out of the reserve parking garage ($15: for the privilege) was the worst nightmare ever, we were all the way at the top of the darn garage and it must have been 45 minutes before we could even get in the exiting line. There were other traffic jams elsewhere, thanks to the cops' strategic decision to route traffic away from Woodlands Parkway, but a few turns away from the herd found us on that main road and onto the freeway while others probably waited another 20 minutes just to get to the feeder road.
I think the musical climax of the evening was when one of his backup singers, who's from Houston, led the other stage performers in a Tina Turner-esque rendition of Proud Mary.
Apparently, someone bootlegged it and it's up on YouTube, but I can't vouch for the quality because, hell, I was there. No need to see it again. It appears to be an amateurish capture from the hill, which is where I was, just a little to the right of that obnoxious guy with the foreign flag who kept outstretching it and pissing off all the old people whose view he blocked.
I'm serious, a few of those old Rod Stewart fans almost threw down.
Rod played all the songs that I knew he was famous for, including that Van Morrison song "Have I Told You Lately" that kick-started his career once again when he did it on MTV Unplugged. I think that's how the story goes. I dunno. He also sang that Creedence Clearwater Revival "Have you Ever Seen the Rain" song, I think it's on his new (covers) record. He tossed around a few of Sam Cooke's hits, too.
I could have done without all the soccer video montages and the constant stripteases … but his computer animated video intro was so … adorable. I can't find it on the web, so I guess you just kind of had to be there.
He only performed one encore song – Maggie May – and then the large screen behind him lit up with "Mr. Stewart has left the building." Kind of rude, but hell – it was Houston in July.