Today was all about the grass. I got 15 more squares of grass from Houston Garden Center today (Kim got 20 yesterday) and I spread them around the front and backyard. I had to dig up some dead grass before placing them down; and I murdered some grubs who have been enjoying a feast on my grass' roots for way too long.
Since I was at Houston Garden Center, I couldn't resist buying a 24 pack of color ($5.77); I chose Bronze Leaf Red Begonia. I then went to Lowe's to get some MiracleGro Seed Starter Potting Mix, there I found a six pack of African Marigolds that I could not resist ($1). I also bought a packet of portulaca seed ($1.29), I wanted them because I discovered some volunteers from last year in my flower bed, and they need company.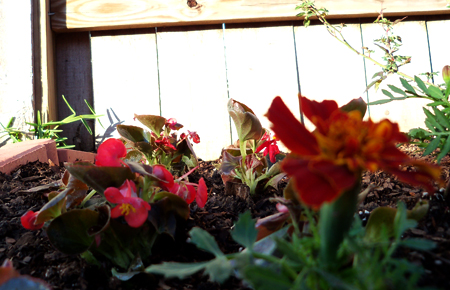 Tomorrow will be all about the seeds, as I expect my shipment from Park Seed to be in. Check out what I ordered this year from ParkSeed below.
| | | |
| --- | --- | --- |
| Quantity | Variety | Cost |
| 3 | Coleus Wizard Mix | $4.05 |
| 2 | Dianthus chinensis Baby Doll | $1.50 |
| 2 | Cosmos PsycheMix | $1.90 |
| 2 | Mexican Zinnia Persian Carpet Mix | $1.50 |
| 1 | Cosmos Happy Ring | $1.95 |
| 1 | Monarda 'Bergamo' | $1.95 |
| 1 | Snapdragon Labella Mix | $1.00 |
| 1 | Rudbeckia Cherry Brandy | $2.95 |
| 1 | Blanket Flower 'Arizona Sun' | $1.95 |
| 1 | Snapdragon Night and Day | $1.25 |
| 1 | Bellflower Complete Mix | $0.75 |