Recently, I wrote an article that was published on the college website and its online newsletter about awards won by five staff members in various departments around the college.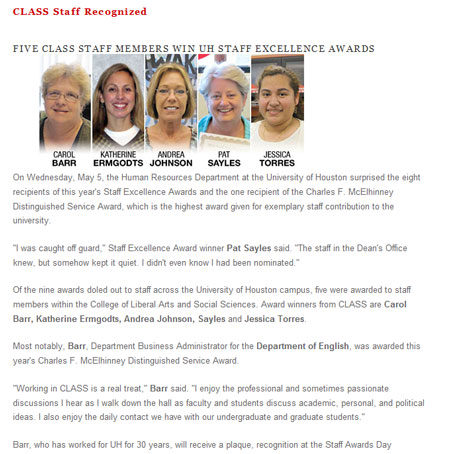 Here is an excerpt:
On Wednesday, May 5, the Human Resources Department at the University of Houston surprised the eight recipients of this year's Staff Excellence Awards and the one recipient of the Charles F. McElhinney Distinguished Service Award, which is the highest award given for exemplary staff contribution to the university.

"I was caught off guard," Staff Excellence Award winner Pat Sayles said. "The staff in the Dean's Office knew, but somehow kept it quiet. I didn't even know I had been nominated."
Read the rest of the article in the May 2010 issue of Graffit-e.